Stroud Valleys Woodcraft Folk Camp 2023!
Friday 26th May to Tuesday 30th May
at Ashen Plains, Ashen Plains Wood, Stinchcombe Hill, Dursley GL11 6AD
Welcome to the Annual Camp page! Come and join the whole district at our annual camp. It's a great way to make friends, have fun together, be creative and cooperative and make amazing memories.
Booking is now closed.
PLEASE READ!

Adults attending camp must hold a current Woodcraft Folk membership and DBS certificate, to comply with our safeguarding policy and insurance.
You can start this process by joining Woodcraft Folk through the Groop platform  https://woodcraft.org.uk/group-guidance/support-advice/membership/                                                             
Please contact Katherine Roberts at svwf.finance@gmail.com to assist with document validation for DBS.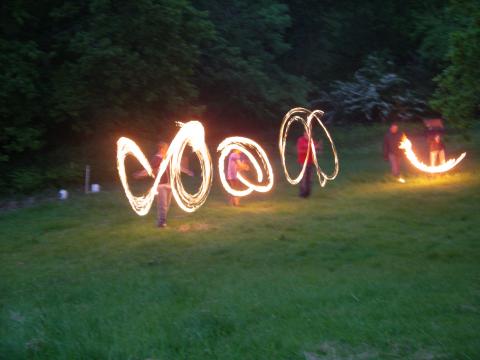 Camp fees
 Early Bird - if booked by 28th April 2023
Adults (16+) & Venturers (13+)
Elfins and Pioneers (6-12s)
Woodchips (age 2-5) 
Full price from 29th April
Adults (16+) & Venturers (13+)
Elfins and Pioneers (6-12s)
Woodchips (age 2-5) 
2-Day ticket 26-28th May (Woodchip families only please)
Early bird adult £40
Full adult £45
Early bird Woodchip £20
Full Woodchip £25
Concesssions are available. Please contact Emma Somerville through stroudwoodcraft.camp@gmail.com
Dates, times, location
Camp starts at 4pm on Friday 26th May and finishes at 3pm on Tuesday 30th May. Tuesday is a packing up day and a final circle. We need people to stay and help tidy up too
Location: Ashen Plains Camp site, nr Dursley
We welcome everyone to camp 
Attending all four nights of camp gives the best experience of camp and ensures the Clan system runs smoothly and that friendships can blossom.
There will be a two-night option for Woodchip families only. Dates of this option are to be comfirmed
Clans
Everyone attending (whatever age) helps with the daily tasks of running the camp, within a team which we call a Clan. These are sorted out before camp and made up of a mixture of people of all ages and experience.
Each clan has one duty a day: cooking, washing up, toilets, water, cocoa. We like to put families into different Clans so that children get the chance to be independent and learn and interact with different ages and people, not just their parent.
Food
All food is provided except dinner on Friday evening. Lunch will be provided on Tuesday before we leave the site.
Healthy plant based food is provided for breakfast, lunch and evening meal.
Please ensure the dietary intolerances/allergies are filled out on the booking form.
It is very much appreciated that preference isn't decided once on camp as our wonderful chefs need to ensure the correct type and amount of food is available for those who have stated allergies/intolerances.
Phones
We encourage mobile phones to be left at home as the young people will be busy having too much fun. If adults can use theirs discreetly when it is necessary.
It's a good opportunity for young people to switch off from the distraction that social media/ phone use can become.
Booking info

Please read the information and instructions below carefully.
The SVWF Committee have set the fees as low as we think reasonable, given the costs of camp. 
Please calculate your total payment due carefully and then pay either by bank transfer or Go Cardless
1. Paying by BACS (bank transfer) - 
Details: Stroud Valleys Woodcraft Folk. Co-Operative Bank. Sort code: 089250 Account no: 65028580
Please put your name as the reference so we can track payments.
If you not already signed up to Go Cardless you can fill in the form here
 ttps://pay.gocardless.com/AL0001W7QJK6VJ
If you want to pay your camp fee by Go Cardless, in addition to having set up the direct debit, please email Kate on svwf.finance@gmail.com saying that you agree to SVWF using the direct debit to take the camp fees,saying how much your camp fees add up to in total so that she knows how much money to take.
Thank you, and we look forward to seeing you at camp!