Stroud Valleys Woodcraft Folk Camp 2018!
25 - 29 May
at Ashen Plains campsite, nr Dursley
It's time again for our wonderful annual camp! We are returning to Ashen Plains near Dursley, which has provided such a beautiful location for our last three years' events.
Bookings now open

Adults attending camp must hold a current Woodcraft Folk membership and DBS certificate, to comply with our safeguarding policy and insurance. Please contact Lis Parker or your group membership leader as soon as possible to find out more about this requirement.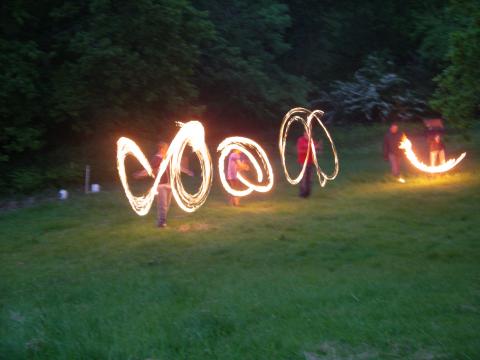 Camp fees -
booking closes May 10th 2018

or before if it gets to 100 people

Adults (16+) & Venturers (13+)

Elfins and Pioneers (6-12s)

Woodchips (under 6s)

If paying through PayPal, fees are subject to an additional £2 fee to cover PayPal's fee

 

Early Bird - if paid before 20th April 2018

 

Adults (16+) & Venturers (13+)

Elfins and Pioneers (6-12s)

Woodchips (under 6s)

If paying through PayPal, fees are subject to an additional £2 fee to cover PayPal's fee

 
Dates, times, location
Camp starts at 4pm on Friday 25th May and finishes at 2pm on Tuesday 29th May.
Location: Ashen Plains Wood, Stinchcombe Hill, Dursley GL11 6AD (website) (location - google maps)
We recommend that everyone attends for the full camp: this provides continuity for the camp community including Clan membership (see below), and a safe feeling about the space.
If you have a special requirement about partial attendance, please get in touch with Camp Chief Lorraine Trowers: lorraine.trowers@yahoo.com
Key camp roles
Camp is a communal affair that works best if all the tasks are spread around a group of people. There are a few key roles which underpin all the logistics and the activities. So each year we ask for volunteers to fill these important roles.
It's always evolving, and we like to see the roles passed onto a new person each year, which gives the chance for a new generation to add their own unique slant.
Each camp role holder will have loads of support and guidance from camp veterans so they can really get to enjoy it without worrying too much about getting it "wrong". Taking a leading role at camp is a chance to be part of great team, and be much more involved in creating an enriching and often magical experience for everyone, so please volunteer if you would like to be involved in any of the following roles:
Camp Chief/Circle Holder
Acts as conduit for information, is guardian of the values and the overall smooth running of the camp
Folk and Craft Marshals
Responsible for planning and leading activities, arts, games, including the all important wide game, Pea Fair and the Merry Moot (cabaret)
Keeper of the Provender (KP)
Responsible for planning meals, ordering food and supporting the clans in their cooking duties
Keepers of the Environment
Responsible for the minimisation, re-use and recycling and containment of all waste on site
Keeper of the Fire
Responsible for sourcing wood and kindling for the camp fire and the wood-fired stove aka Puffing Billy. Building, lighting and maintaining a camp fire each night and lighting Puffing Billy each morning
Kit Marshals
Responsible for transporting and setting up the main tents and infrastructure of the camp. Maintains and carries out running repairs as necessary
First Aiders
On duty for emergencies requiring attention and for promoting Health & Safety on site
Clans
Everyone attending (whatever age) helps with the daily tasks of running the camp, within a team which we call a Clan. These are sorted out before camp and made up of a mixture of people of all ages and experience. Each clan has one duty a day: cooking, washing up, toilets, water, cocoa. We like to put families into different Clans so that children get the chance to be independent and learn and interact with different ages and people, not just their parent.
Food
All food is provided except dinner on Friday evening. Lunch will be provided on Tuesday before we leave the site.
If you have special dietary requirements you will probably need to bring what you need as it is not easy for the KP to provide for everyone.
Booking info

Please read the information and instructions below carefully.
To book on camp please complete a Camp Registration Form - one form for each person attending camp - and then arrange payment.
The SVWF Committee have set the fees as low as we think reasonable, given the costs of camp. However we do not wish finances to be a barrier to attendance. So if you need to pay a reduced amount in order to attend, then please discuss this with Lorraine Trowers prior to completing payment.
Please calculate your total payment due carefully and then pay either by bank transfer or through PayPal.
1. Paying by BACS (bank transfer) - preferred
Details: Stroud Valleys Woodcraft Folk. Co-Operative Bank. Sort code: 089250 Account no: 65028580
Please put your name as the reference so we can track payments.
2. Paying through PayPal
Please go to our Paypal payment page and enter the amount due. This will then take you through the payment process.
Please put your name as the reference so we can track payments.
This allows you to use a credit or debit card or your PayPal balance to make a payment. Dont forget the extra £2.00 to cover PayPal fees
Thank you, and we look forward to seeing you at camp!