Stroud Valleys Woodcraft Folk Camp 2018
In May we will have another amazing instalment of our annual camp. We will return to Ashen Plains near Dursley, which has provided such a beautiful location for our last three events. There are even showers!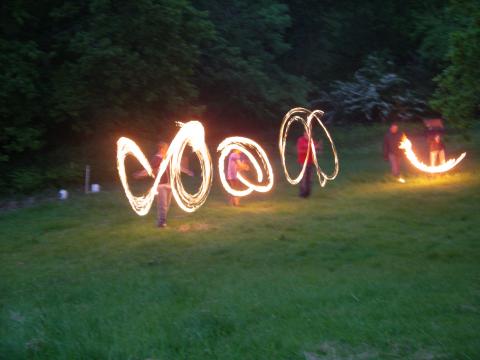 Our theme and activities
Our theme last year was 'Fairy Tales' which really brought out people's creativity especially with the magical and indescribable traditional Wide Game.
As well as surviving the wind and rain, we did lots of activities including songs and drama, making up acts for the Merry Moot, playing games bot indoors and out, whittling, exploring, gathering round the fire, and of course the traditional Pea Fayre afternoon.
One of the hit acts at the Merry Moot was a beautiful and funy song made up by a group of children assisted by one of the parent leaders. Here are the lyrics (with apologies to Rodgers and Hammerstein):
Woodcraft and Whittling and songs round the fire,
Drinking hot chocolate is my hearts desire.
Dressing up for the Wide Game and attaching my wings
These are a few of my favourite things
Craft Tent and Merry Moot
Spending peas instead of pounds
Cooking the breakfast in our dressing gowns
Waking up gently in the middle of Spring
These are a few of my favourite things
When the rain comes
In the flash flood
Can we de-camp to the Barn?
We simply remember our favourite things and then we all feel more calm..
Helpings of Eggy bread piled high with sugar
Piers at the Merry Moot doing Booga Wooga
Learning new songs that the Venturers sing
These are a few of my favourite things..
Putting our tents up no matter the weather
Whatever we're doing we're in it together
Making a dragon from willow and string
These are a few of our favourite things...
Toilet Cleaning, breakfast duty, washing up porridge pans
We simply remember our favourite things, and we are in love with our Clans!!

Some camp photos
Venturers and adults after the Wide Game: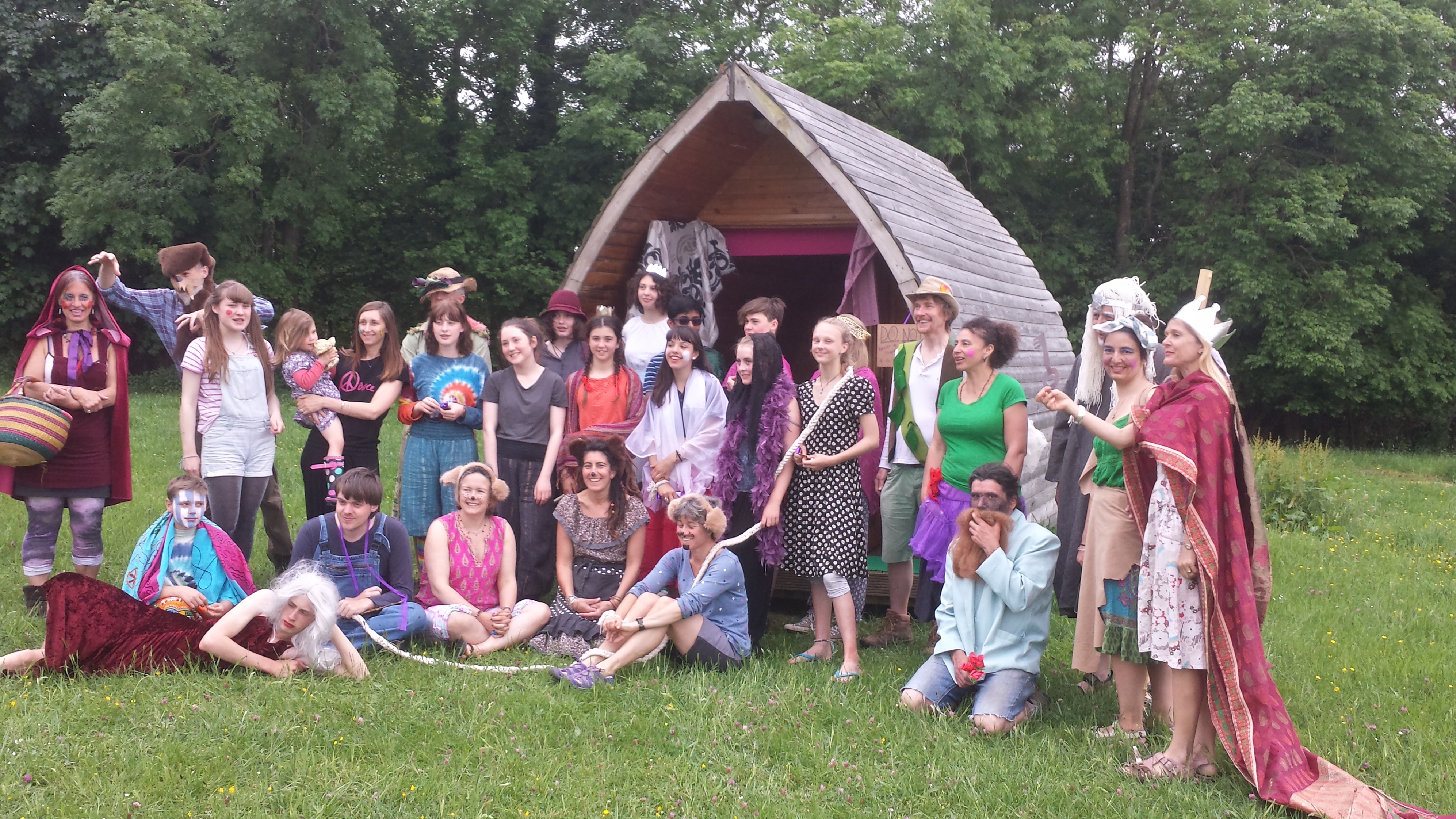 The ceremonial end to the Dragon: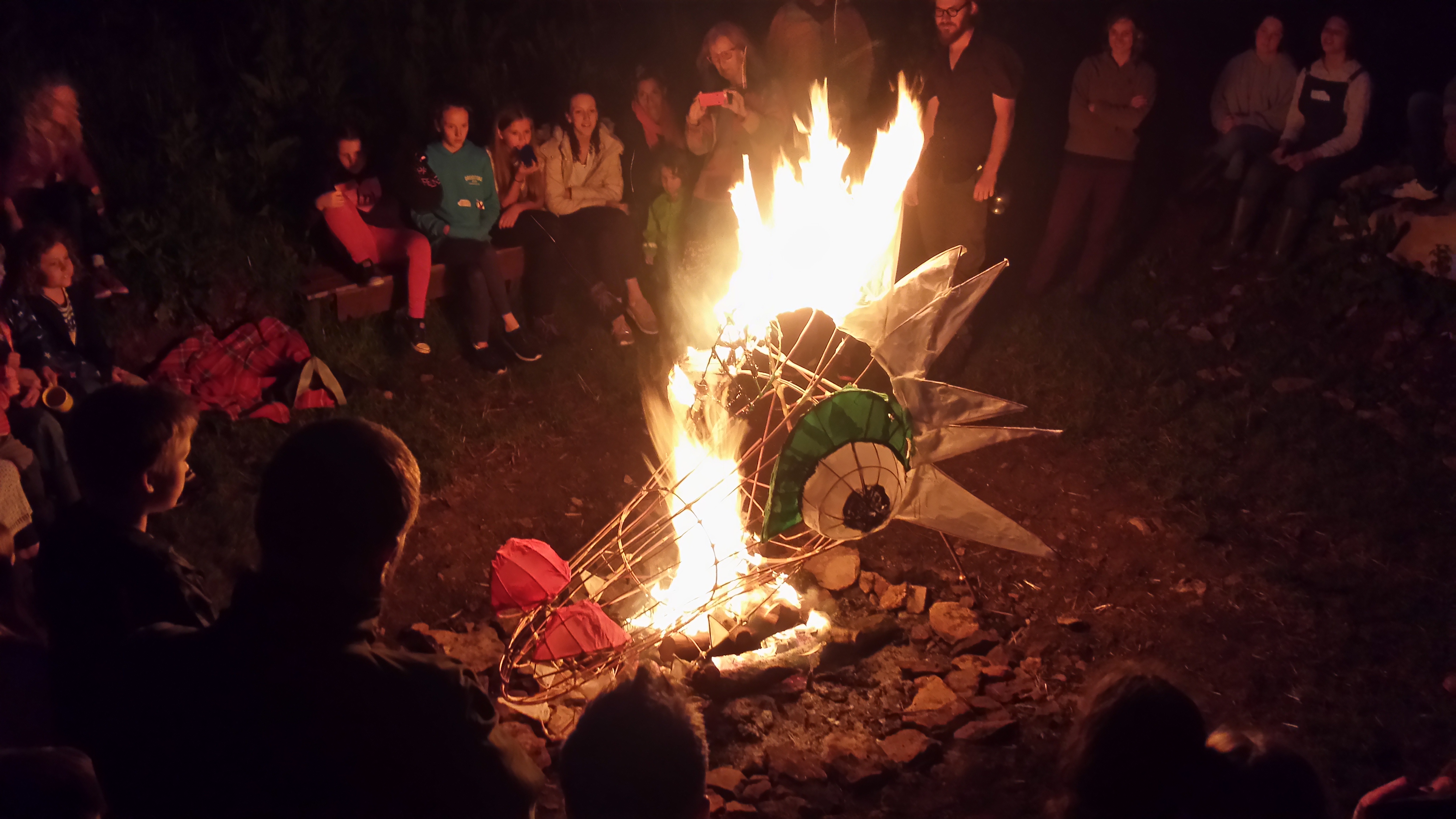 We are not sure what the bowls were for!
Key camp roles
Camp is a communal affair that works best if all the tasks are spread around a group of people. There are a few key roles which underpin all the logistics and the activities. So each year we ask for volunteers to fill these important roles.
It's always evolving, and we like to see the roles passed onto a new person each year, which gives the chance for a new generation to add their own unique slant.
Each camp role holder will have loads of support and guidance from camp veterans so they can really get to enjoy it without worrying too much about getting it "wrong". Taking a leading role at camp is a chance to be part of great team, and be much more involved in creating an enriching and often magical experience for everyone, so please volunteer if you would like to be involved in any of the following roles:
Camp Chief/Circle Holder
Acts as conduit for information, is guardian of the values and the overall smooth running of the camp
Folk and Craft Marshals
Responsible for planning and leading activities, arts, games, including the all important wide game, Pea Fair and the Merry Moot (cabaret)
Keeper of the Provender (KP)
Responsible for planning meals, ordering food and supporting the clans in their cooking duties
Keepers of the Environment
Responsible for the minimisation, re-use and recycling and containment of all waste on site
Keeper of the Fire
Responsible for sourcing wood and kindling for the camp fire and the wood-fired stove aka Puffing Billy. Building, lighting and maintaining a camp fire each night and lighting Puffing Billy each morning
Kit Marshals
Responsible for transporting and setting up the main tents and infrastructure of the camp. Maintains and carries out running repairs as necessary
First Aiders
On duty for emergencies requiring attention and for promoting Health & Safety on site
Clans
Everyone attending (whatever age) helps with the daily tasks of running the camp, within a team which we call a Clan. These are sorted out before camp and made up of a mixture of people of all ages and experience. Each clan has one duty a day: cooking, washing up, toilets, water, cocoa. We like to put families into different Clans so that children get the chance to be independent and learn and interact with different ages and people, not just their parent.