There are currently four Woodcraft Folk groups meeting in the Stroud Valleys area. Between February and November all our groups meet outdoors in various venues depending on their programme: from parks, woodlands and streams, to our beautiful commons, canalsides and sometimes town centres. The groups mostly meet indoors in the winter. 

All of our groups involve the children and young people in their planning and deciding what their activities will be, and we try to follow the Woodcraft ethos in what we do. The national Woodcraft website has more information about the kinds of things the different age groups get up to - go here and follow the links suggested.
Budding Woodchips
The Woodchips is our group for the under-6s. They meet fortnightly on Saturday mornings, and get up to lots of creative activities, free play, songs and sharing. Parents usually stay with their child at the session, and in time are asked to contribute to the running of the group, by planning an activity, volunteering to collect subs or similar. It's a lovely social group for families.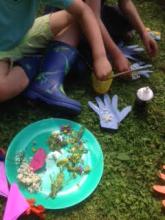 Willow Elfins
Willow Elfins meet fortnightly on Thursdays from 5.30pm. The Elfins are wild, messy and full of fun and freedom! They love playing with natural materials, climbing trees, flying kites, painting, clay, campfires and playing in the stream. Come along before or after tea time depending what works for your family...
Acorn Pioneers
Our Pioneers group for 10-12s meets on Thursdays 5.30-7pm. They enjoy gathering around a fire in the woods, playing cooperative and competitive games, drama, forest school skills, swimming trips in the summer, and great crafts such as bath bombs, cookies and banners in the winter. They like to raise money for causes they care about. It's high-energy and strong friendships are formed.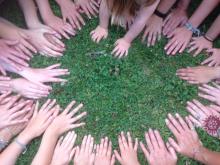 Buttercup Venturers
Our Venturers group for 13-15 year olds meets fortnightly on Thursdays from 7-8.30pm. They enjoy games, discussions, songs and music, campaigning for peace and the environment, making a difference to the world around them and going on camps. They take a lot of responsibility for planning and leading their own activities. Venturers have a key role in the running of our annual camp, where they camp in their own area away from the adults and younger children. It's all about developing their own independence and leadership skills as young adults.
Giving it a try
Normally if there is space in a group, children/young people are welcome to come along for a free try-out session or two to see if they like it. If they decide to keep coming and join the group, we require a Registration form to be completed including contact details, health information and consents. This information is stored securely through the national Wooodcraft Folk Groop database.
Getting Involved
Once you feel committed to Woodcraft and are attending regularly you will need to become a member of National Woodcraft Folk and get a DBS,
We need this for running the groups and we expect everyone to get involved in contributing to helping and running activities. Support is available for newcomers both locally and from the national organisation.
If a group is full, we run a waiting list system until a space becomes available.
Email stroudwoodcraft@gmail.com to make an enquiry about our activities and membership. We'll get back to you and offer to meet up with you to discuss more about us and how you can give it a try.
Our subs page tells you more about the costs of being part of Woodcraft. Please ask if you need help with this.